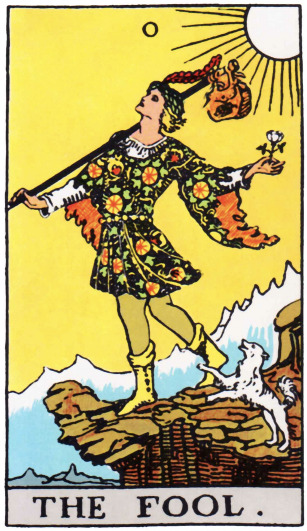 The Fool is a card that represents beginning, and this card is often associated with new beginnings. The Fool is the only tarot card that has no number, which symbolizes the idea of being a blank slate.
There is no specific placement for the Fool in the Major Arcana & they can be placed at the beginning of the sequence or the end. The Major Arcana can be considered to be The Fool's journey in life. And so he is ever present and does not need to be numbered.
On "The Fool" tarot card, a young man stands on the edge of a cliff, without a care in the world, as he sets out on his own new adventure. He is gazing upward toward Heaven and looks as though he's completely unaware that he's about to leap into uncharted territory but not before praying for guidance from the Universe. He travels light, carrying a few belongings and his rose in his hand. "The Fool on the Hill" is a story about hope and discovery. The main character, Ronald, travels to the mountaintops as he searches for something new in life. The many obstacles that appear along the way demonstrate his empathy and concern for those in need. They seem to be around forever, but The Fool doesn't care about them right now. He is focused on beginning his trip instead.